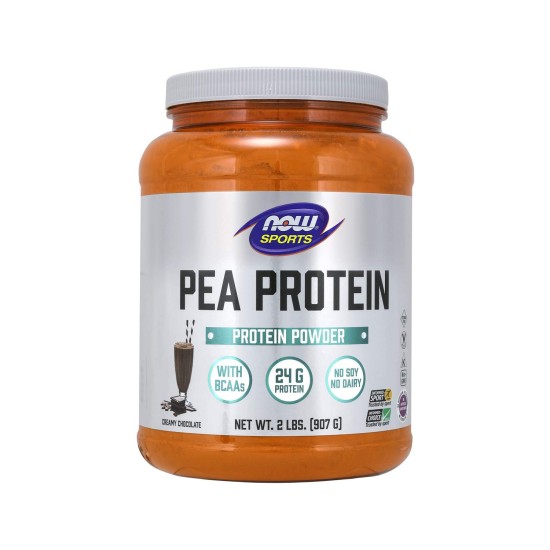 Now Sports, Sports, Pea Protein, Creamy Chocolate Powder 2 Lbs.
Now Foods
Limited Stock!
Free from eggs, dairy, nut, soy
High protein
Keto friendly
Kosher certified
Non-GMO
Vegan/Vegetarian
Gluten-free
Peas are well known for being a source of highly bioavailable protein. Additionally, peas are not considered one of the major dietary allergens. Collectively, this makes pea protein an ideal source of post-workout nutrition for athletes who may have difficulty supplementing with other types of protein.. Each 1 scoop serving typically has over 4,200 mg of branched-chain amino acids (BCAAs), and over 2,000 mg of arginine. NOW Sports Pea Protein has a smooth texture and mixes easily into your favorite beverages.• DAIRY FREE• EGG FREE• HIGH PROTEIN• KETO FRIENDLY• KOSHER• MADE W/O GLUTEN• NON-GMO• NUT FREE• SOY FREE• VEGAN / VEGETARIAN
Add 1 level scoop daily to 10 oz. of cold water or your favorite beverage. Stir or blend.
Each Serving Provides 24 G Of Protein; Essential Amino Acids Mg Per Serving L-Histidine 590 L-Isoleucine 1094 L-Leucine 2009 L-Lysine 1798 L-Methionine 211 L-Phenylalanine 1322 L-Threonine 936 L-Tryptophan 211 L-Valin 1183 ; Non-Essential Amino Acids L-Alanine 974 L-Arginine 2030 L-Aspartic Acid 2822 L-Cysteine 358 L-Glutamic Acid 4286 Glycine 986 L-Proline 1042 L-Serine 1248 L-Tyrosine 895., Cocoa Powder, Natural Flavors, Xylitol, Sea Salt, Organic Stevia Leaf Extract, Xanthan Gum, Stevia Leaf Extract (Rebaudioside A).